07.17,2015
Release on Jul.18(Sat)-入場抽選販売-
7/18(Sat)販売モデルのご紹介です!!

人気の
LEBRON
シリーズから
素材がカジュアルになってポップ
なカラーリングで登場です。
ファンに愛され続ける「エア ジョーダン 7」のオリジナルカラーウェイが、新たなクラシックとして復活。マルチカラーのシュータンとアウトソール、ヌバックのアッパー、ボルドーのポイントカラーと、ファンの記憶に残る配色にさらに磨きをかけた、夏向きのバージョンです。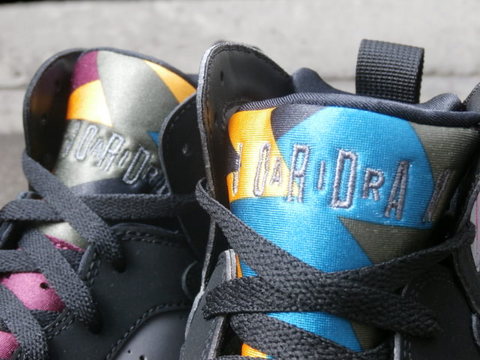 MENS 25-32cm

¥20,520(TAX IN)
AIR JORDAN 7 RETRO BG
KIDS 22.5-25cm

¥15,120(TAX IN)
下記、販売につきましての注意事項をご確認くださいませ。
●抽選販売ではございません。
●事前ご予約は承っておりません。
●7月18日(土)午前10時00分の時点でお並びいただいているお客様に、ご入場順の抽選を当店2F入口前にて実施させて頂きます。
(ご入場は抽選結果の順序で、午前11時00分開店からのご案内となります。)
先着順の入店はではございません。
●速やかなご案内を心掛けますが、フィッティング等ございますので、OPENしてからもご案内までにお時間が掛かる事が御座います。
●お一人様一点までとさせていただきます。
●限定商品につきまして、お取り置き、他直営店舗への在庫確認、お取り寄せにつきましては、
7月21(火)からのご対応とさせて頂きます。
●当店の前の通りは人通りが非常に多く、近隣する店舗も多数ございます。
STAFF及び警備員の指示に従って頂きますようお願い致します。
●また、指示に従って頂けない場合、近隣店舗にご迷惑がかかる場合、トラブルが発生した場合には販売を中止させて頂く場合がございます。
●上記の販売方法及び、ルールの予定ですがやむを得ず当日変更する可能性がございますので、
予め、ご了承下さいませ。
Thank you for your interests in the above products. Due to numerous inquiries we received on these products, we ask for your attention on the following:
*There will be no drawing of lots for the sales of these products.
*There will be a draw to decide the orders by which the guests can be shown to the store for those who are waiting in line as of 10:00am Saturday,July 18,2015. This draw will take place in front of the store entrance. (The store door will be opened at 11:00am and the guests will be shown to the store according to the order received thru the draw.)

Entering the store is not on the first-come first-served basis.
*We will try to show the guest to the store as fast as we can, however please understand it may take some time before being shown to the store after the store opening due to fitting, etc.
*Product purchase per guest is limited to one style/one color .
*The store may decline the sales to the guest who receives/provides cash and goods from others inside or outside the store.
*The store is unable to accept payment for the purchase if it was made anyone other than the purchasing guest.
*The store is unable to accept bulk purchase by a group of guests.
*Product hold, inventory look up at the other owned doors and product transfer from other owned doors will be accepted from day, July 21,2015 for the limited products,
*In respect of the large traffic in the street in front of our store and neighboring stores, we ask the store guests to follow the instruction of STAFF members and security guards.
*The store may decide to stop the sales of products if there were any guest who does not follow the instruction, any inconveniences caused to the neighboring stores, and any of trouble.
*We as our guests' understanding that the above method of sales and rules we have in plan may need to be altered under unavoidable circumstances on the day.
Thank you very much for your cooperation!!!!
皆様のご来店を心よりお待ちしております!!
NIKE STORE KICHIJOJI
東京都武蔵野市吉祥寺本町2-16-15
0422-28-0833
OPEN 11:00-20:00
LINK:


TAG: BASKETBALL FOOTWEAR JORDAN